Curly Hair Care Bootcamp Full Course
Tired of hair that is constantly breaking and won't grow? Want to learn about the science of hair care to help yourself, your clients or your patients or clients?
This bootcamp by board-certified dermatologist and hair care expert, Dr. Crystal Aguh, gives you all the tools to develop a healthy hair routine to help you unlock the hair of your dreams!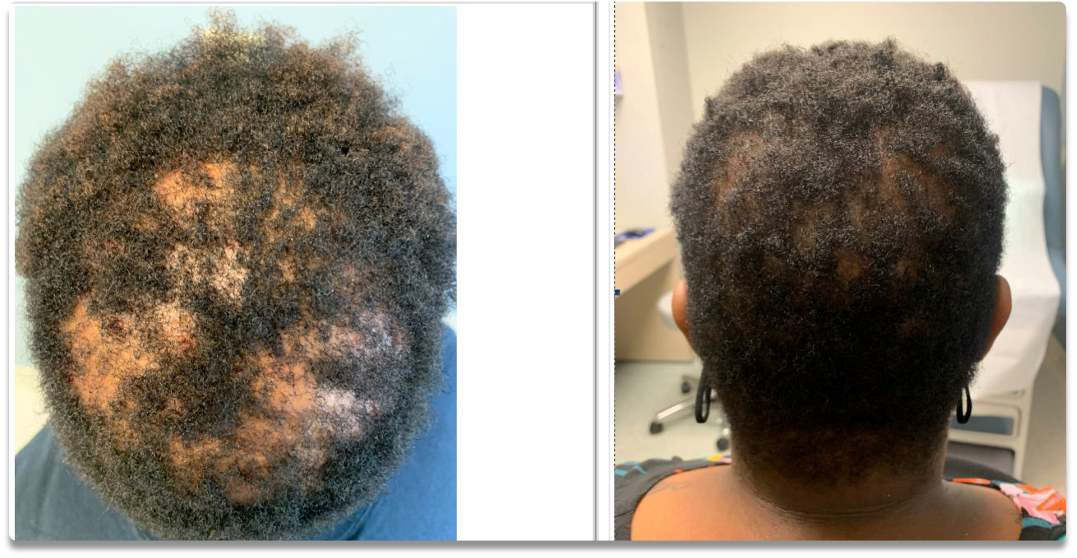 You would be surprised to see what a healthy hair regimen can do!
This patient received medical treatment for years before seeing Dr. Aguh who diagnosed her with haircare related hair loss, a condition termed Acquired Trichorrhexis Nodosa. After 4 months on a healthy hair regimen she had nearly complete reversal of hair loss, no medicines required!
**SAVE OVER $200 BY ENROLLING IN THE FULL COURSE**
Spending hundreds of dollars on stylist appointments, extensions and wigs because you're not sure where to start? Start here!
This complete course consists of six modules:
Introduction to the Curly Hair Care Bootcamp
Understanding Curly Hair: The Basics
Hairstyling Practices: Let's Talk Extensions, Natural & Relaxed Hair—Is one option best?
When Hairstyling Goes Wrong-Alopecia Types Common in Curly Girls And How to Fix Them
Getting Back on Track: How to Build a Healthy Hair Care Routine
Supplements and Oils-Which Work? Which Don't?


In this single course you will learn:
Detailed breakdown of the science of hair care
Individualized hair care routines based on your curl pattern and hair density
Recommendations on the best (and worst) styling practices for your hair type
Product recommendations
Discussion of hair supplements that ACTUALLY help with your hair
Interactive worksheets to help reinforce what you've learned
Post course quiz


After completing this course you will gain:
A better understanding of your curly hair needs
The ability to choose products that will complement your hair (no more wasting money on hair products you use once and never use again)
Confidence taking care of your own hair (money saved)
Gain confidence working with your stylist to determine the best treatments for your hair
Curly Hair Care Bootcamp Course Lectures
Available in days

days after you enroll

Introduction
Available in days

days after you enroll

Curly Hair Care Bootcamp
Available in days

days after you enroll

Conclusion
Curly Hair Care Bootcamp Course Options
Not ready to take the full course? Consider taking one course at a time or a mini course bundle. Select an option below:
EXAMPLE
Check your inbox to confirm your subscription